Try rebounding for 5 minutes & see how you feel after!
We enjoyed it when we were children, why not enjoy it now!
Physical exercise is a great way to improve your overall wellbeing and simple daily movements such as walking or family activities can help to reduce stress and anxiety.
So what if there was an exercise that not only boosted your physical and mental health but was fun at the same time?  This could easily eliminate the dread of knowing you "should" exercise daily and make the overall experience of physical activity more of a delight rather than a chore.
If you're thinking of purchasing a new rebounder, take a look at our blog 6 TOP TIPS ON BUYING A REBOUNDER
How can rebounding help with my mental health?
Rebounding on a mini trampoline is a low impact exercise that improves circulation, stimulates the lymphatic system and is gentle on your joints.  By increasing the blood flow to your muscles and triggering the release of endorphins, Rebounding can actually decrease anxiety and make you feel happy.  How many times have you seen children jumping on a trampoline having a miserable time?  The simple answer is NEVER!  Trampolining is the perfect stress buster for us adults too and the motion of bouncing up and down can be very calming. The best news is you don't even have to jump for a long time in order to feel the benefits.
REBOUNDING FOR A FEW MINUTES A DAY will encourage the flow of blood to your brain, release your "happy hormones" and aid in assisting your lymphatic system to function better, in turn making your overall wellbeing feel uplifted.
Throughout our professional career as Rebounding Instructors, Scott & I would often hear excuses prior to a fitness class that customers had had a tough day and decided to go home rather than participate in the workout, or work was overbearing and therefore it was more important to continue working rather than taking out 30 minutes to an hour for their physical and mental health. This is a mistake we are all guilty of and in turn has resulted in a huge amount of the population becoming sedentary, suffering with depression and mental illness.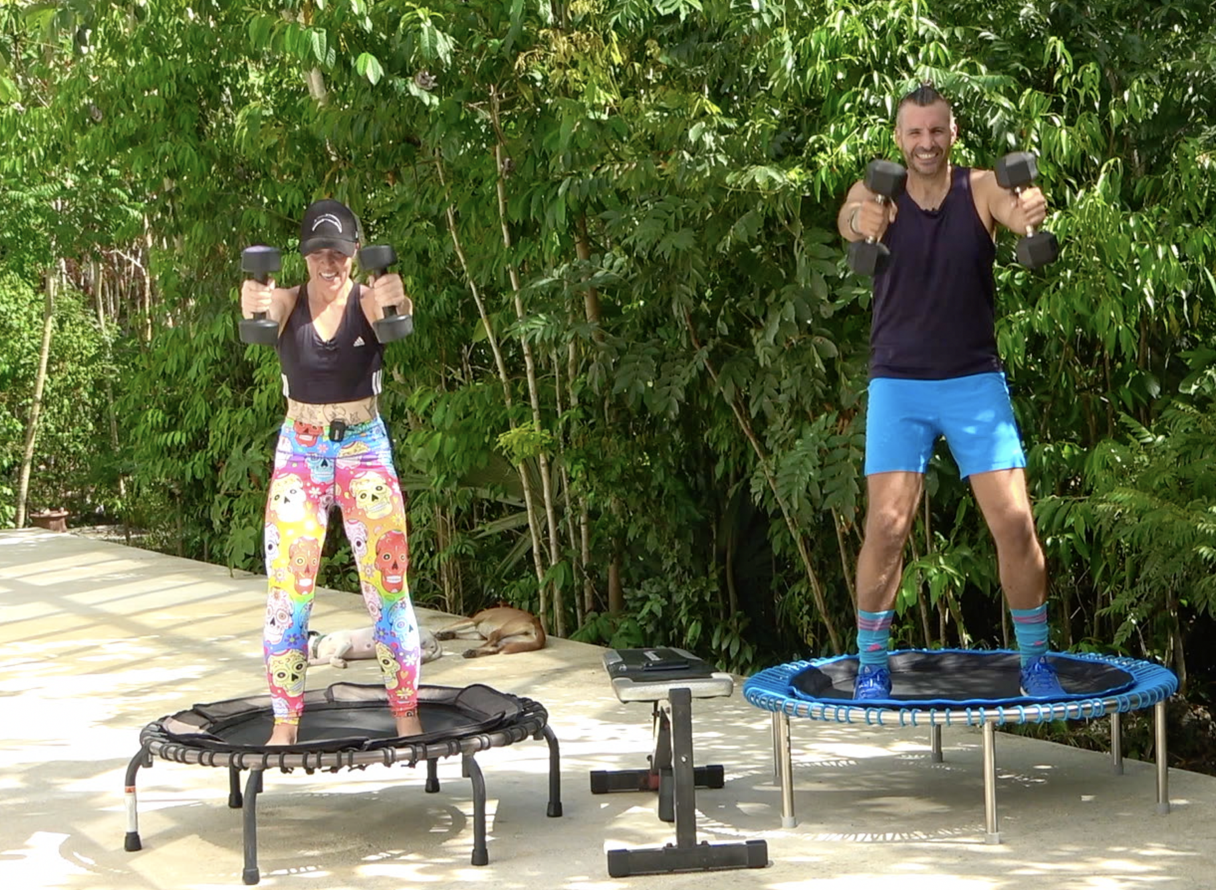 From my own experience, I like to use exercise as a way of relieving stress and almost as a coping mechanism.  It is a chance for me to alleviate pent up frustration and gives me the time to clear my head.  Rebounding at home, online in a group or in a class environment can boost self esteem and give you that time out that you need. Often, online and live fitness classes are great to serve as a little community, with customers having similar goals, needs and achievements making it easy to relate to each other as well as building new friendships.
So instead of flogging yourself 24 hours a day, listen to your brain and body that still enjoys feeling like a child and go jump!  You could literally bounce away your worries and focus your mind on something that makes you happy, even if its just for a short period of time.  
We often encourage our members to leave their rebounder out where it can be accessed easily at home.  This way, if you want to bounce a few times each day, all you need to do is put on some music that will inspire you to move (or one of our videos!) and away you go.
So the next time you tell yourself you don't have the time to do a full workout, try bouncing for 5 minutes to one of our videos or stick on your favourite tune.  
We have created a Mini Moves Series on our Youtube Channel that consists of 30 x 5 minute workouts.  These are ideal to grab when you are short on time and need to bounce with some guidance. 
⬇️ To find amazing rebounding videos for beginners and experienced bouncers, take a look at the links below ⬇️ 
If we can help further with purchasing a rebounder or you have any questions, please contact us on [email protected]